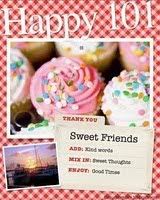 Now I have to make a list of 10 things that is making me happy, so here we go ...
1. Cross stitch. I have several favorite designers and one of my favorite theme to stitch is halloween/witches.
2. Quilting. I love to make quilts, mostly bed quilts and I love the fabrics of Moda.
3. Knitting. I always knit my own sweaters and always use 100% cotton yarn.
4. Walking. I love to walk in the woods with DH and our jack russel terriër (Mc) Bowy.
5. Baking. I love to bake and oak-meal cookies are my favorite.
6. Looking at blogs. I love to read on so many blogs and get inspired by many.
7. Meditation. I love to meditate, it is so peaceful.
8. Reading. My favorite theme to read is mysteries. I have 2 favorite writers, the first who write herbal mysteries is Susan Albert Wittig and the second is Monica Ferris who writes needlecraft mysteries.
9. My kids. I'm always happy when the kids come over for a visit. My daughter Lindy lives 1 hour drive away from us but my son Niels lives only a 15 minutes drive away.
10. Fle-market. On sundays mostly of the times there is a fle-market in the area and i love to go there, searching for old things.