Last year I bought the book:
The Amish Circle Quilt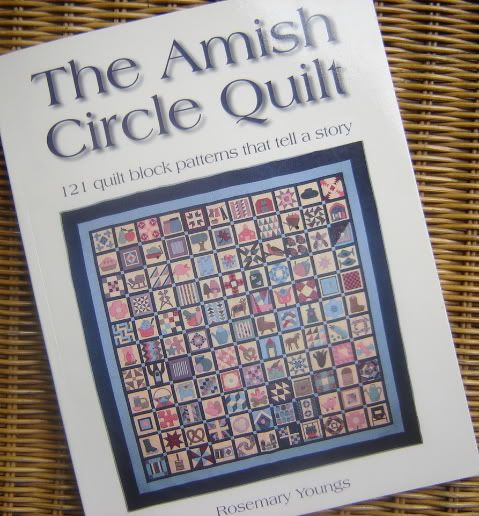 I loved that quilt/book immediality, because I read alot about the Amish and their livestyle. As a pagan I'm interesting in all kind of religions. This quilt has so many beautiful blocks and the letters written by each block makes it even more interesting.
About the book:
There are 11 Amish women (Rachel, Lydiann, Martha, Rebecca, Lavina, Edna, Frieda, Lavern, Ida, Regina and Miriam) who send a circle letter to each other for many years and now they have decided that when they sent their circle letter, they will enclose a 6' quilt block pertaining to something that happened in their lives during the week.
When I bought the book I had search for all my solid fabrics and came up with this color scheme for the quilt
I made block 1 right after I got the book.
(With each block I write a line from the circle letter, so you know why that block was choosen by one of the Amish women. I can't write more about these letters because of copyright.)
Block 1 - The Picnic
Rachel included that pattern on may 15 because she had that week a picnic.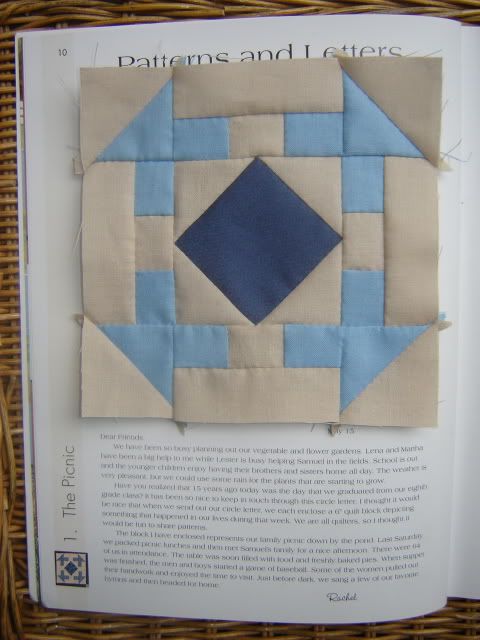 Because I was making more quilts and cross stitch pieces at that time, I stopped with making more blocks. Till last weekend ... I thought that beside the SBS quilt I can make 1 or 2 blocks of the Amish quilt a week. So I'm going to work on blocks for the SBS and the Amish circle quilt every week.
Last weekend I made 3 blocks for the Amish circle quilt and i realy enjoy working with the solid fabrics.
Block 2 - Fruit Trees
Lydiann writes on may 29 that her fruit trees are in bloom and it looks like she will have lots of apples and pears later that season.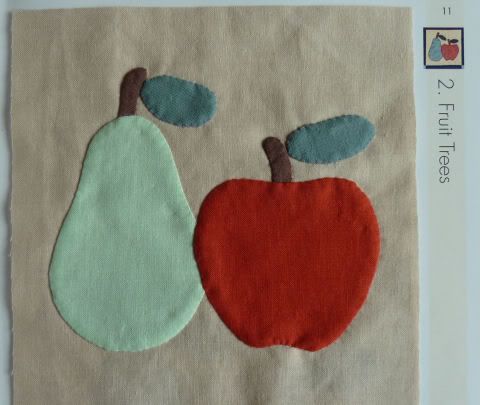 Block 3 - Collecting Eggs
Martha writes on june 12 that Little Marlin and Vernon have collecting eggs and they only broke one egg.
Block 4 - Canning
June 19: Rebecca has alot of beans and peas from her garden and now she is busy with them canning in the kitchen.