Boy oh boy, I was so busy this week that I totaly forgot to post here.
Stil working on the Potpourri quilt, the binding is almost finished. In between I have made some cross stitches so my wrist could rest a bit from the quilting.
I started a new pattern called Lavender garden Sampler and its from Fleur de Lis. This one is going to hang on our toilet that will be renovated soon and I'm going to give it a lavender theme.
The fabric I used is a lila linnen 32 counts, I hope you can see it on the picture. I bought this fabric last year in a craftshop when we visit that town.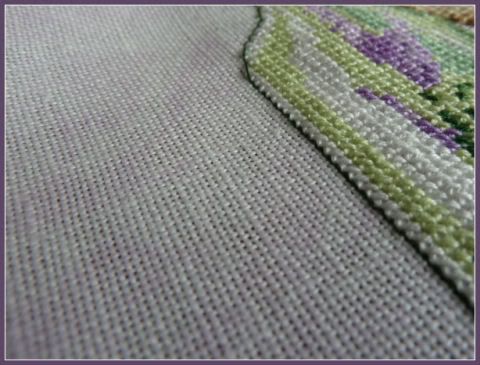 Last week I got a beautiful gift from my dear friend Nina. I had send her some hearts I collected when we are visiting fairs etc. and every time I saw a heart I was thinking of Nina because I know that she loves heart (who isn't) and I just had to buy them for her.
But now she had something in return. So doesn't had to do that but she did anyway and I just LOVE it what she had sent.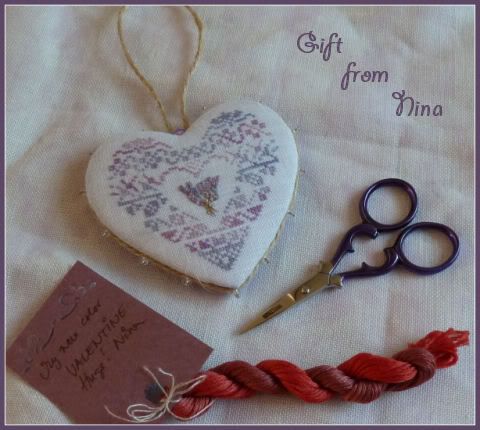 A beautiful heart with in the middle lavender. I just love it, ... how did she now that I love lavender (and its color purple) so much? Don't know if I once told her that, but I do. I just love that color and the smell of lavender. She also included a beautiful scissor with a purple handle and I already are using it and it works very well. Then she included a beautiful color from her own dyed thread called Valentine. Don't you love that color?
Nina thank you SO MUCH for these beautiful gifts, I love them al !!
Look at the lavender in the middle, so tiny, so pretty, so ....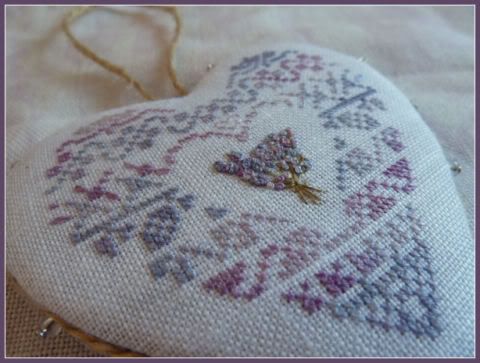 yes ... so may french knots. I just love it !!